Hello Friends! Did you get a chance to see my Thanksgiving bottles here? If you want to make the same super CUTE and super EASY project I am giving away the vinyl letters for it. Since you are already a follower of my blog, all you would have to do is like me on on Facebook and leave me a comment and you are ENTERED to win! Check it out!
Today I have the honor of having Mary from It's a Sun Kissed Life. I'm over there today, too so make sure you come visit. Mary is my lovely bloggy friend, her blog is precious and she lives in Paradise. Need I say more?
Take it away Mary!
***
Hello Dance for 5 readers! or as we like to say in Hawaii, "
aloha
"! My name is Mary and I blog over at
it's a sun kissed life
. I'm so glad to be guest posting for Vivian today. She's become a great friend in bloggy land and I enjoy reading her blog daily.
I'm here to share with you a little piece of the paradise I call home. I live in Hawaii on the island of Oahu. There are so many things I want to share with you guys about life on the island but that would probably be a very very long post. So I decided to break it down and pick the top ten things I love about living here.
1. The diversity: Hawaii is a melting pot of so many different ethnicities; Japanese, Chinese, Hawaiians, Filipinos, Puerto Ricans, Samoans, and so much more. most locals here are mixed, like my kids who are Filipino, Okinawan, Puerto Rican, Spanish and French.
2. Endless fun in the sun: When you're surrounded by lush green mountains and the beach is never more than 15 minutes away, there's so much you can do; tan, swim, surf, kayak, snorkel, paddle board, hike, zip line. I could go on and on... nature is our play ground.

4. Island hopping: Bored on the island you're on? Hop on a plane for a short flight to another island. Each island is just as gorgeous and has something different to offer.
5. The beautiful colors in the sky during a sunset.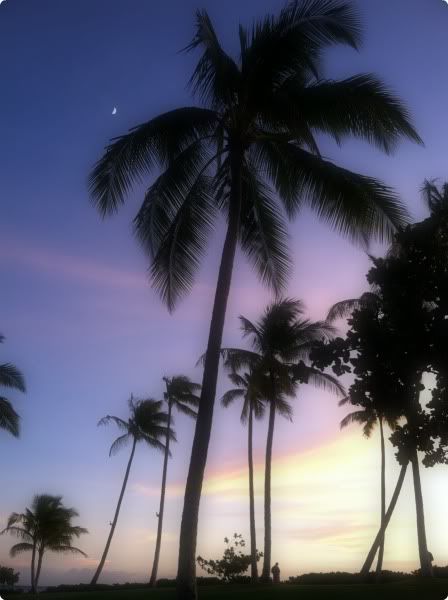 6. The hula: such a graceful Hawaiian dance. I took hula lessons for about six years and enjoyed it. I miss dancing.
7. What's better than a rainbow? A double rainbow!
8. You can get away with walking around in a bikini anywhere without everyone staring at you. And slippers (flip flops) are acceptable daily footwear.
9. Shave ice: the perfect treat to enjoy on a hot sunny day. Or any day.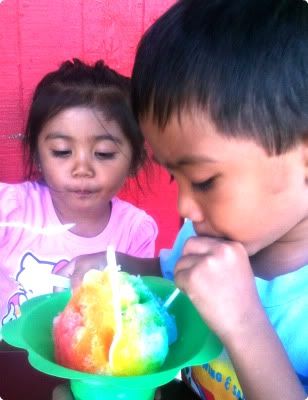 10. Aloha spirit: You greet friends, family and even people you just met with a hug and a kiss on the cheek. Wave a
shaka
at the person who let you cut in while you're trying to merge onto another lane when driving. So that's a glimpse of what life is like on the island. come visit my blog and you can see a little more of our life in Hawaiian paradise.
XO, Mary
http://itsasunkissedlife.blogspot.com